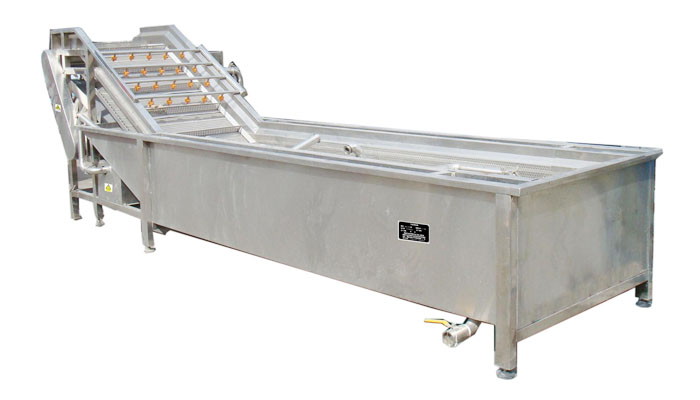 Pepper steam bath cleaning machine
Configure of the equipment
Washing mode:Steam bath bubble cleaning
Dimension of the equipment(mm):4000*800*1250
Driving Motor: 0.75KW,
Vortex air pump, 2.2KW,Water pump, 2.2KW
Product introduction
The motor of pepper steam bath cleaning machine adopts cycloidal gear reduction motor, which has stable operation, low failure rate and adjustable speed. In the design and construction of the pepper steam bath cleaning machine, the inner tank is selected as the structure, which is conducive to the cleaning of residues and equipment, so as to ensure compliance with the national health and Safety specifications. It is equipped with strong pressure fan and spray. There are many dense bubbles in the pool, so that the products can complete the rolling hand washing and impact cleaning of high-pressure spray, simulate manual cleaning and strengthen the cleaning performance. The product output of pepper steam bath cleaning machine only has high-quality stainless steel mesh belt. It is driven by cycloidal wheel speed regulating motor, which has stable operation, adjustable speed, long service life and high safety factor. After three times of filtration, the residue is left at the water tank, and the floating debris is discharged with the help of the overflow at the upper end. If it cannot drift, it is intercepted with the help of arc filter screen, so as to ensure that the pool is clean, and the residue can be removed as soon as possible to ensure the cleaning effect of the product.
The overall structure:The tank body is made of SUS304 with a thickness of 2mm, and the main frame body is made of 50 * 50 * 1.5 (mm) square tube (tolerance is allowed).
Transmission structure:The effective width of mesh belt is 800mm, 304 stainless steel mesh belt.
Transmission form:Variable frequency motor; Variable frequency speed regulation. The water level of this equipment is adjustable.
Scope application
The hot pepper steam bath cleaning machine is mainly used for cleaning all kinds of fresh and dry hot peppers to prepare for the next processing work.
Feature of the product
1. In addition to the standard parts such as motor and bearing, the equipment of pepper steam bath cleaning machine is made of stainless steel SUS304 / 2B, which fully meets the hygienic and safety standards of exported food. The equipment is equipped with a bubble generator to make the materials in a tumbling mode. It has the characteristics of high cleaning, environmental protection and energy saving, water saving, stable and stable equipment, etc.
2. SUS304 stainless steel mesh belt is selected for the conveying part of pepper steam bath cleaning machine, which has the characteristics of stable operation and long service life, and meets the food hygiene and safety standards.
3. The cleaning machine adopts advanced scheme design and inner tank structure. At the level of removing impurities, it realizes the characteristics of no dead corner, clean and environmental protection and easy removal of intercepts.
4. The main body of the water tank of this machine is made of 2mm thick 304 stainless steel.
ENQUIRY MESSAGE