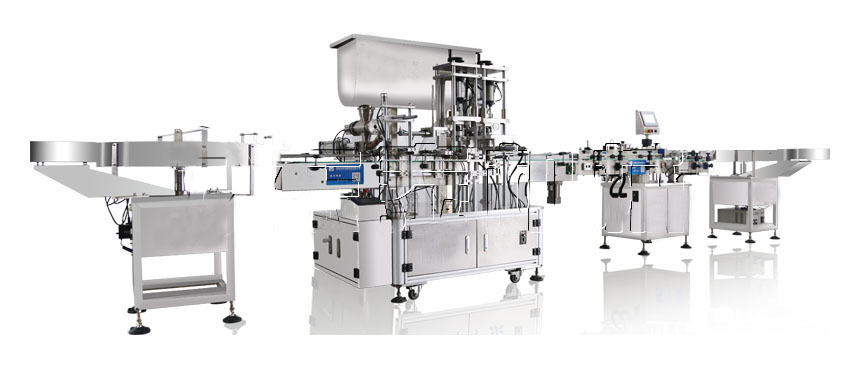 600 bottles/hour chili sauce filling and capping machine
Product Specifications:
Voltage specification AC380V
Power 2kw
Air pressure 0.4-0.5Mpa
Production capacity 10-20 bottles/min
Filling volume 100-500 grams
Accuracy ±1%
Host size 2000×1600×2100mm
Conveyor size 2000×210×170mm
Applicable tank diameter 38-82mm
Applicable tank height 30-180mm
Product introduction:
The sauce filling and capping integrated machine adopts the principle of piston servo drive, which is suitable for sauces in condiments, thick soups or chili sauce with particles and high concentration, bean paste, peanut butter, sesame sauce, jam, thick sauce, honey For the filling of more viscous sauces, the degree of automation is high, and the machine can complete automatic filling, automatic capping, automatic vacuum sealing and sealing.
Scope of application:

Available cover type range: according to the normal cover type range of QB/T1499-2000 standard, the cover outer diameter range is 33.5-85 mm. The thickness of the cover steel plate is 8.6-16 mm.
Available bottle category: the bottle mouth specifications should be available with the standard cap types required by the QB/T1499-2000 specification and the non-standard cap types within this range.
The bottle body can be of annular or non-annular cross-section, the diameter of the containing circle at the large part of the bottle body should be within 110 mm, and the bottle height should not exceed 180 mm
It is suitable for filling all kinds of semi-fluid, paste and sauce containing particles, and can also fill various viscous bodies, etc. The price is also very suitable.
Product details and accessories:
Product advantages and features:
The equipment can pass through large particles of sauce, stir evenly, and has the characteristics of precise filling, stable and reliable operation, high work efficiency, long life, and maintenance order.
After-sale service:
1. If you have any questions, please call, we will serve you 24 hours a day
2. Door-to-door maintenance, worry-free and attentive
ENQUIRY MESSAGE