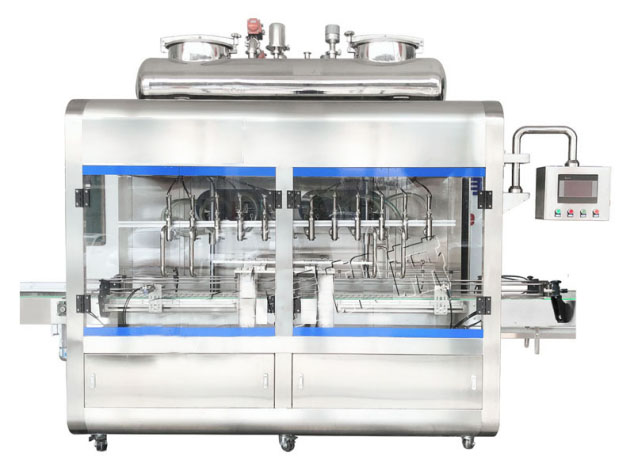 2000 bottles/hour 12 heads chili sauce filling machine
Product introduction:
The production line of the automatic chili sauce filling machine can keep the company's products from entering the raw materials to the packaging machinery and equipment, and go through a series of manufacturing themed activities such as production and processing, transportation, assembly lines, and testing. The production line has great coordination ability, can meet the needs of various types of manufacturing, and can maintain high-volume manufacturing of chili sauce, sauces, sauces, etc., thereby helping manufacturing enterprises maintain the goal of high-speed manufacturing.
Product Specifications:

Measurement accuracy class 0.2
Number of filling heads: 12 heads (can be customized)
Power voltage 380V±10% three-phase four-wire
Liquid inlet pressure 0.3-0.35Mpa
The pressure of the pump is 0.6-0.8MPa
Measuring range 1000-5000ml
Production capacity 1200-2000 bottles/hour
Dimensions 2400mm×1100mm×2000m
Scope of application:
It is suitable for filling all kinds of semi-fluid, paste and sauce containing particles, and can also fill various viscous bodies, etc. The price is also very suitable.
Product advantages and features:
1. The unique multi-style filling line head and back-suction system software designed to prevent leakage ensures that the manufacturing site and the finished packaging products will not be polluted by the liquid material environment;
2. The chili sauce filling machine uses a full-color touch screen man-machine interface operated on an imported PLC computer to ensure that the volume adjustment is simple, fast and accurate. It is irreplaceable by all kinds of automatic cellar filling machines;
3. The bottle distance and bottle height of the filling line are easy to adjust;
4. There are oblique flushing or straight flushing methods for filling nozzles, which are suitable for filling lines with different liquid properties. The oblique flushing type integrates liquid materials that are easy to foam. Enterprise products at the top of the filling line
Question:
1. One month warranty, one year lifetime maintenance
2. If you have any questions, please call, we will serve you 24 hours a day
3. Door-to-door installation, considerate and attentive
ENQUIRY MESSAGE