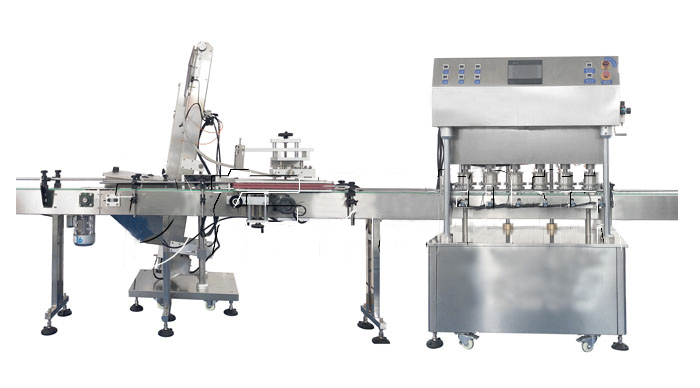 Double row eight head vacuum capping machine
Product parameters:
Working voltage: 380V
Processing capacity: 800-900 bottles/h
Tightening torque: 3-10Nm (adjustable)
Gas pressure in bottle: ≤67KPa
The diameter of the bottle is: 45-85mm
Adapt to bottle cap: 38-70mm
Bottle height: 60-180mm
Product advantages:
1. The equipment adopts the down-pressing vacuum capping, instead of the traditional top-top capping, to overcome the traditional broken bottle and cap damage;
2. The straight bottle feeding is adopted, the bottle feeding is more stable, and the success rate is higher than other screw caps;
3. The effect of the vacuum capping machine for liquid materials or glass bottles that are easier to spill is better, and it overcomes the risk of material leakage caused by the centrifugal force of the pull-type capping machine.
Scope of product application:
For example, sauces, vinegar, juices, beverages, sesame pastes, juices, etc. in the food industry.
After-sale service:
1. Service tenet: fast, decisive, accurate, thoughtful and thorough
2. Service goal: service quality to win customer satisfaction
3. Service efficiency: If the equipment fails within the warranty period or outside the warranty period, after the supplier is notified, the maintenance personnel can reach the site and start maintenance within 24 hours.
4. Service principle: The product warranty period is one year. During the warranty period, the supplier will repair and replace the parts damaged due to quality reasons for free. If the parts are damaged outside the warranty period, only the cost will be charged for the provided accessories. For equipment damage caused by human factors, the supplier repairs or provides accessories at cost price.
ENQUIRY MESSAGE