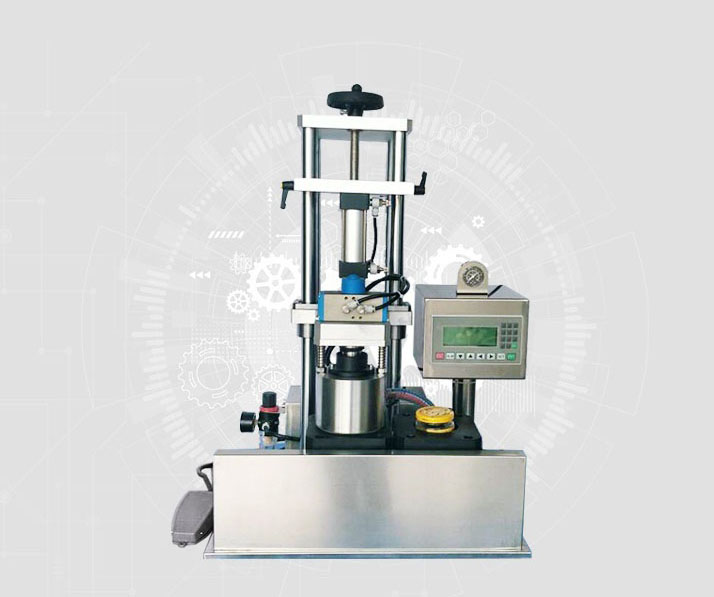 Semi-automatic double station vacuum capping machine
technical parameter:
Product output: 10-40 times/min
Rated power: 0.8KW
Dimensions: 600*450*550mm
Product description:
The outstanding advantage of this vacuum capping machine is that it belongs to a semi-closed model, which can greatly reduce the space for vacuuming and fully conform to the implementation of the concept of saving in the domestic machinery manufacturing industry. Even if the vacuum capping machine belongs to the type of semi-automatic capping machine, its working efficiency is not very low. The working mode uses manual bottle ejection and manual capping, which has a protective effect on the material bottle itself and can reduce the loss rate of the material bottle. The semi-automatic vacuum capping machine seems to be clumsy with manual participation, but at the same time, all other working links of the equipment are in the form of automatic control, which is very beneficial to the improvement of the productivity of this machine.
Product advantages:
1. The structure of the equipment is reasonable and compact, the operation is stable, the operation is flexible, and the specification conversion is very convenient for adjustment;
2. Electrical automation control, good stability;
3. Equipped with screw cap positioning equipment, standard locking cap, very convenient to operate;
4. The range of locking caps is wide, and caps of various styles and specifications can be screwed;
5. The capping speed is relatively fast, and the screwing is firm. At the same time, the tightness can be adjusted according to the needs.
Product application range:

The semi-automatic capping machine is suitable for capping plastic caps in wineries, beverage factories, pharmaceutical factories and other industries. If the machine equipment is equipped with an automatic transport device, the semi-automatic capping machine can realize the assembly line operation.
After-sale service:
About logistics: We are responsible for the delivery, please unload the goods by yourself. Logistics and distribution according to local logistics charges
About return and exchange: the return and exchange due to product quality problems, the freight shall be borne by the store. For returns or non-quality problems, the freight is borne by you
About quality warranty: The quality of this product is guaranteed for one year, and only the cost will be charged after one year (except for man-made damage due to improper operation)
About invoices: Our products can be issued with special VAT invoices and ordinary VAT invoices, and tax points are calculated separatel
ENQUIRY MESSAGE