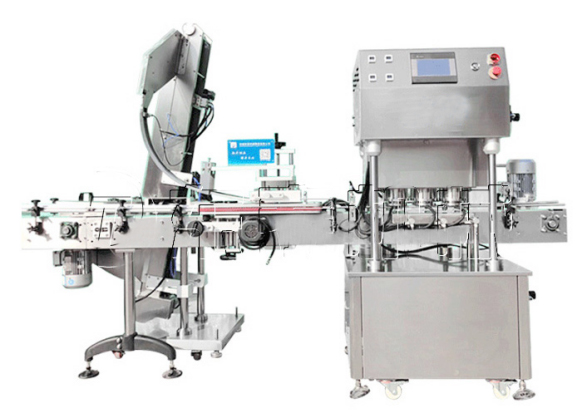 Glass bottle three-head vacuum capping machine
Product performance parameters:
Production efficiency: 1300-1500 bottles/h
Inner pressure strength: <68KPA
The diameter of the bottle is: 46-86MM
Adapt to glass bottle caps: 37-70MM
Bottle height: 30-190MM
Dimensions: 1600*740*1600MM
Stainless steel plate width: 82.5MM
Conveyor belt width: 116MM
Motor rated power: <0.55KW
Product introduction:
This vacuum capping machine is suitable for the customer's use. It has abandoned the drawbacks of the traditional rotary vacuum capping machine. It is the latest high-efficiency mechanical equipment manufactured. In the three-head vacuum capping machine, the color display screen of the capping machine will monitor the capping situation in real time, and the entire equipment is monitored in multiple directions. Stop the equipment. The vacuum levels achieved by the three capping heads can be indicated and adjusted individually. The compliance rate is 100%!
Features:
1. It adopts the method of vacuum pumping, which can obtain a high degree of vacuum;
2. The capping torque and vacuum degree can be set as needed;
3. The main pneumatic and electrical accessories use internationally renowned brands to ensure stable and reliable performance.
Wide range of application:
Three-head vacuum capping of glass bottles in food, canned food, beverages, condiments, health care products and other industries.
After-sale service:
Product warranty period of one year, lifetime warranty. Within one year from the delivery date of the product, under normal use, the equipment failure problem caused by non-human factors will be repaired free of charge. If there is any problem with the product, please contact us in time, and we will offer professional technical support.
ENQUIRY MESSAGE