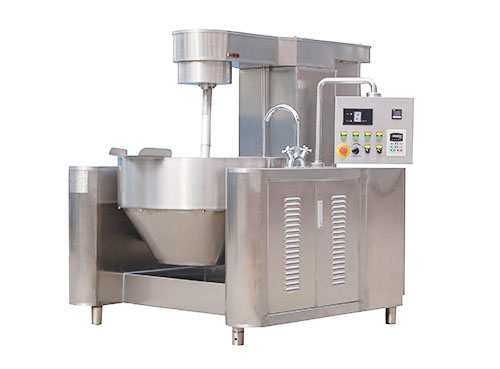 Automatic steam stirring sauce frying machine
Parameter:
Diameter of the pan body:1100mm
Depth of the pan body:550mm
Heating mode:steam
Ignition mode:automatical
Stirring mode:Planetary scraper / bottom scraper / side scraper
Mode of coming out:Low position discharge
Power:22.kw
Voltage:380v/50hz
Weight of the equipment:800kg
Dimension:190*1550*1750mm
Product introduction:
Automatic steam stirring sauce frying machine is a kind of chili sauce frying pan, which is mainly used in the frying of various sauce products, such as beef sauce, chili sauce, mushroom sauce and other sauce products. The equipment uses steam as the driving force, with large heating area, fast rising material temperature and has the advantages of beautiful and grand shape design and reasonable design scheme. In addition, the pot body of automatic steam stirring sauce frying machine can be tilted at any angle, reducing the labor force, Improve work efficiency.
Scope of application:

It is suitable for frying all kinds of sauces, such as chili sauce, beef sauce, mushroom sauce, hot pot seasoning, etc。
Advantage of the product:
1. The mixing system of the automatic steam stirring sauce frying machine adopts the method of combining rotation and revolution, and its transmission ratio is an integer transmission ratio to ensure that there is no mixing blind area in the pot.
2. The pot body of chili sauce frying pot is molded with 304 stainless steel plate, which is closed as a whole, easy to clean and does not paste the pot.
3. It has the characteristics of beautiful and generous design, reasonable design scheme, compact structure, convenient assembly, simple operation and conducive to maintenance.
4. System automatic hydraulic turnover system: it is conducive to discharging and workers' cleaning and maintenance of the body.
5. The system adopts automatic discharging system and circuit operation, which makes the application more convenient. The pot body can be tilted at any angle, which reduces the labor force and improves the work efficiency.
6. The full-automatic steam stirring sauce frying machine adopts frequency conversion speed regulation driving force, and the speed can be adjusted from zero to the highest speed at will, with stable working.
Note:
1. In the working process of automatic steam stirring sauce frying machine, the effectiveness of the facilities must be grounded; When connecting the power supply for the first time, check whether the facility shell is leaking electricity. If leakage is detected, check the electrical circuit immediately;
2. Do a good job in the regular operation of the chili sauce frying machine;
3. Before formal application, the agitator shall be operated without load. If there is no abnormal noise, it can be put into application;
4. In the working process of facility operation, it is forbidden to put hands in the pot to prevent risks;
5. In case of invalid operation and continuous mixing of automatic mixing frying pan, the power supply shall be cut off in time for inspection, and the operation can be put into working again after the phenomenon is cleared;
ENQUIRY MESSAGE