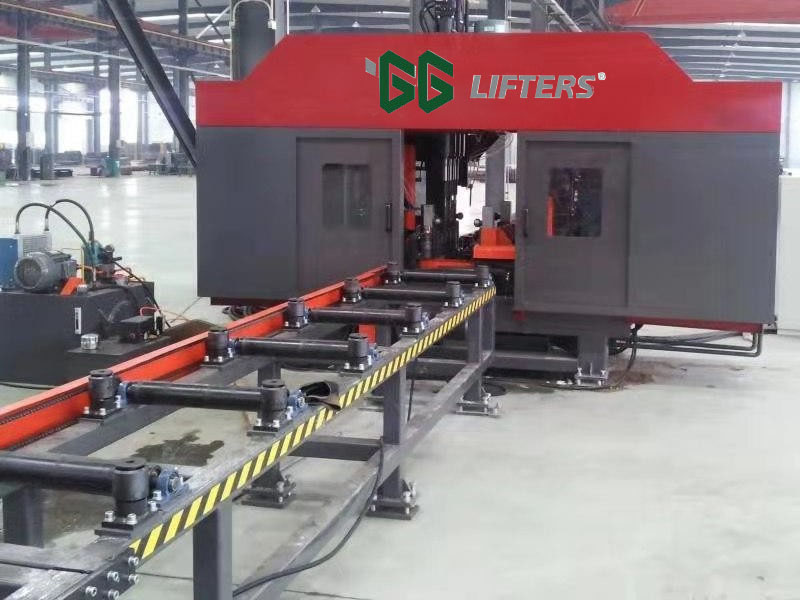 3D DRILLING MACHINES
This Beam Drilling machine is mainly used for drilling holes on H beam, channel beam and other shape steel profile bars. The line has total 9 drilling heads to drill holes at three different surfaces - 3 drilling spindles at top, 3 spindles at left and 3 spindles at right side respectively to drill the web and two flanges of H beam. Each spindle can install different size drilling tool, namely, on each side (web and two flanges) in one working time it can accommodate 3 different size drilling tools, therefore, when the hole diameter changes, no need to change the drilling tool manually,when machine can greatly save tool change time then remarkably enhance the production efficiency and work accuracy.
The drilling machine's main feature is very strong structure with high rigidity and reliability. The machine has high processing efficiency and accuracy, convenient to operate and extensive applicability, widely used in the manufacture of steel structure buildings, bridge, tower mast and grid rack and so on.

Features:
SPEC INFO & NO.
Dimension


H beam parameter
Max. Size Width x Height
600×400mm
Min. Size Width x Height
100X100mm
Beam Length
1000~10000mm
Max.thickness
≤30mm
Max.weight
2500kg






Main spindle
Qty.
3
Spindle speed
180~750r/min
In feeding speed
20~200mm/min
Feeding stroke of upper unit
220mm
Feeding stroke of left and right unit
220mm
Max.hole diameter
φ40mm
Spindle movement range(up)
width direction
0~400mm

Spindle movement range(sides)
vertical
direction

0~400mm
Drill clamp type
Morse's taper
2#,3#,4#
Processing Accuracy
allowance of neighbor holes distance in one hole
±0.5mm
group (<640mm)
In length of 10m, allowance of any holes distance
(>640mm)
±1.0mm

Aerosol cooling system
Air pressure
0.4-0.6MP
Cooling box capacity
80L

In feeding system
Clamp stroke
11000mm
Rack and pinion drive motor power
about 3kW
Overall size(L x W x H)
12000×800×1230mm
Out feed material conveyor
8000mm
Total motor power
about 40kW


Plasma cutting
Model:
Powermax 85
Brand:
Hypertherm
Cutting speed 25mm:
500mm/min
Cutting speed 32mm:
250mm/min
Duramax cutting torch
M85


Sawing machine
Width size
100--400mm
Height size
100--400mm
Max feeding length
12000mm
Min feeding length
1500
Max feeding speed
40m/min

Total weight
Main machine body+material table+NC carriage+In feeding conveyor+Out feeding conveyor +plasm
system+sawing system

about 30000 kg
Overall size
L x W x H
60000×4200×3120mm
ENQUIRY MESSAGE