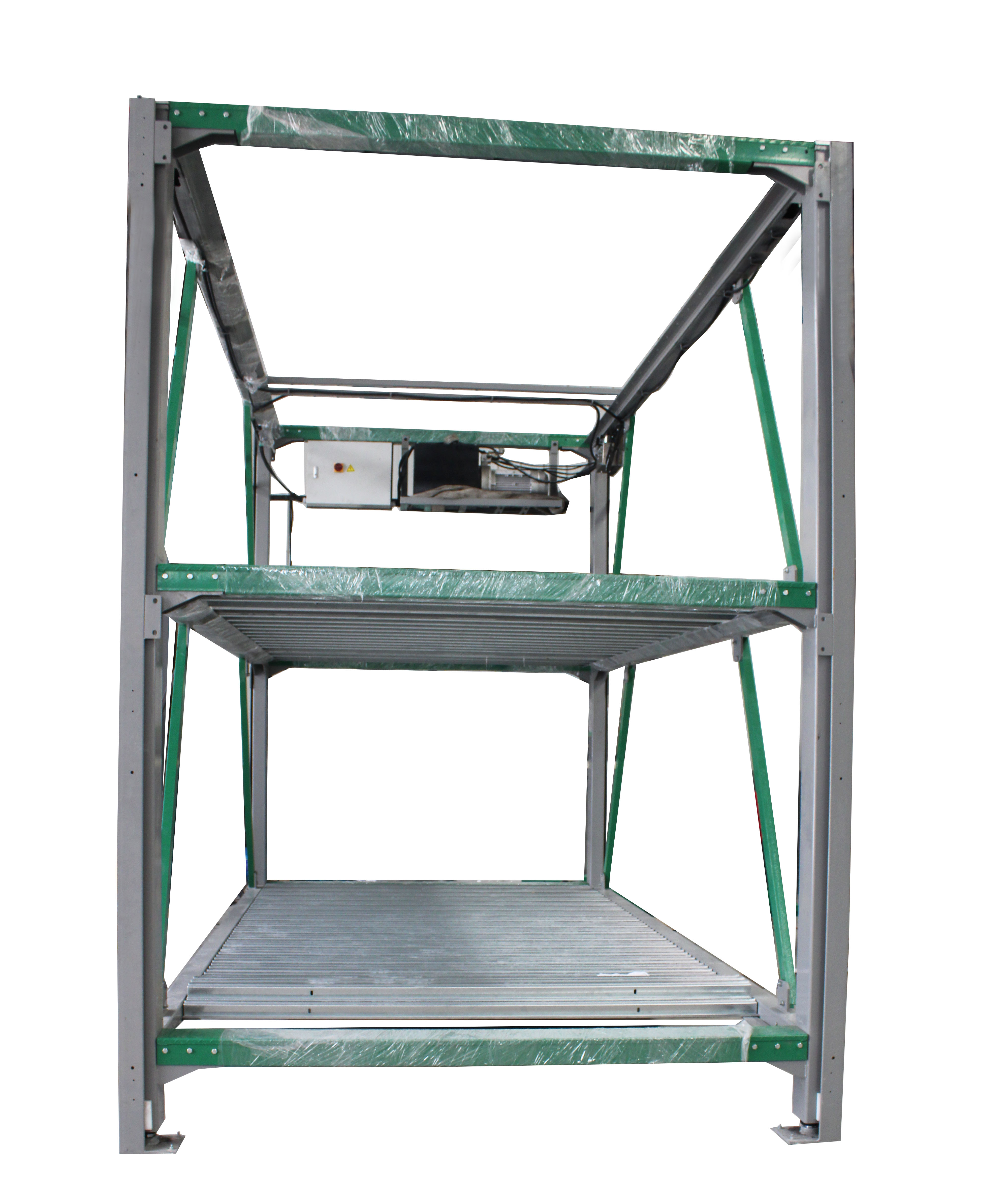 HYDRAULIC UNDERGROUND CAR PARKING SYSTEM (UPS)
1. Offer the most net width within narrow external width. Hide cars underground, no visible impact! People or cars could go thought on the top platform.
2.Hydraulic driven through 4 ea hydraulic cylinders system.
3. Flexible design according to customer requirements, suitable for residential & commercial use.
4. Fully utilization of underground space, no prominent steel structure above ground level.
5. Directly park or pick up the car at any level independently.
6. Simple steel structure, easy for installation and maintenance.
7. Galvanized wave plates platforms, cold bending and strong pressure & humidity resistance.
8. Front and back wave plates are removable for easy access to the pit ground floor in case of emergency.
9. Tire stoppers in each platform to ensure correct placement of the car.
10. Top platform is used as roof & drive through.
11. 1 ea limit switch in every level to stop platforms at predefined heights.
12. Electric operation box is equipped with "Dead Man" Push Buttons (UP/Down) & Emergency and ON/ OFF "Key Switch "where the user can't take it out unless the lift is fully down inside the pit.
13. Electric Operation Box is operated by 24 V to protect against short circuit.
14. Hydraulic power unit is fixed on the front together with facility steel structure under upper platform.
15. Units are designed and built according to EN1493: 2010 and EN14010: 2003 standards.
16. Steel parts are sandblasted then anti-corrosion primer painted and top finish color coated.
PARAMETERS
Model NO:
UPS-1
UPS-2
UPS-3
Lifting Capacity
2,000 Kg / platform
2,000 Kg / platform
2000 kg / platform
Safety System
Counter balance valve to keep smooth movement of the platforms without sudden drop. Also to stop the system if oil hoses are broken during descending.
Parking Space
1 ea underground
2 ea underground
3 ea underground
Roof
Upper platform is used ONLY as roof & drive through
2 ea underground,Upper platform is used ONLY as roof & drive through
3 ea underground,Upper platform is used ONLY as roof & drive through
Rise/Drop Time:
70 S /60 S
Power Supply
380V/ 50HZ/ 3Ph
Motor Capacity
5.5 Kw
7.5 kw
7.5 kw
Drawing
UPS-1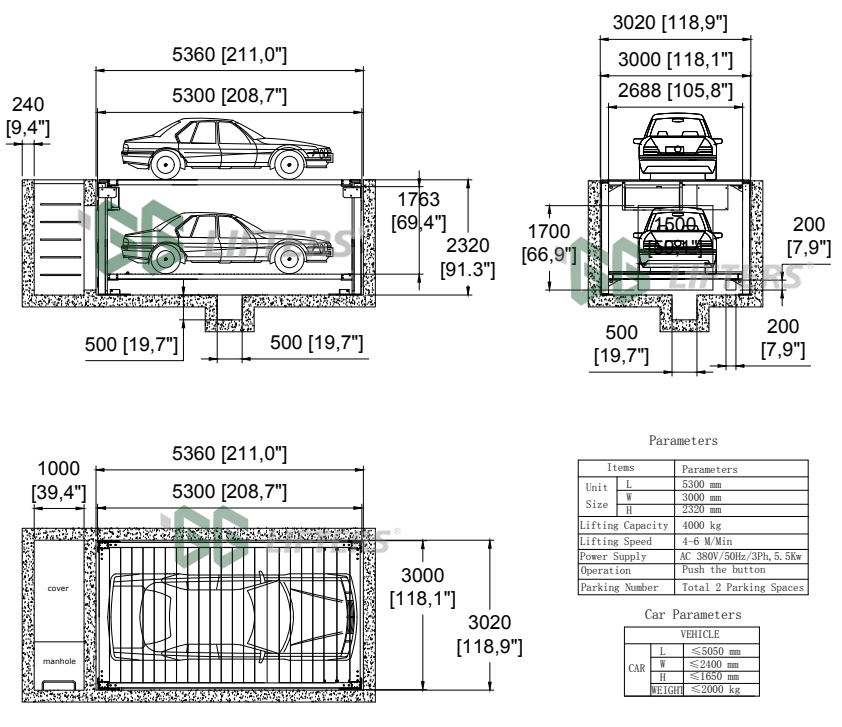 UPS-2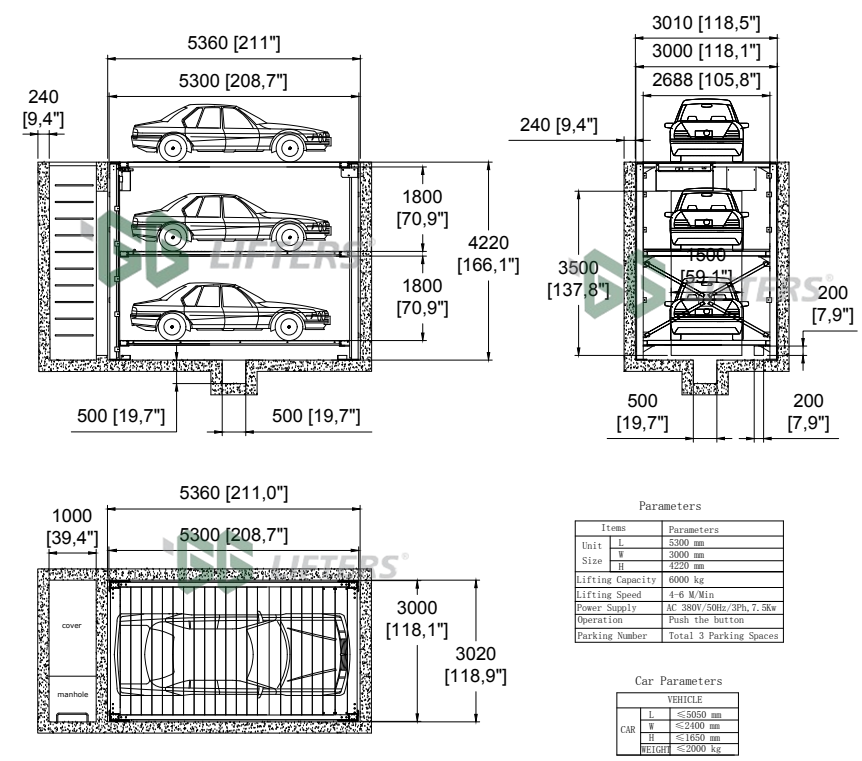 UPS-3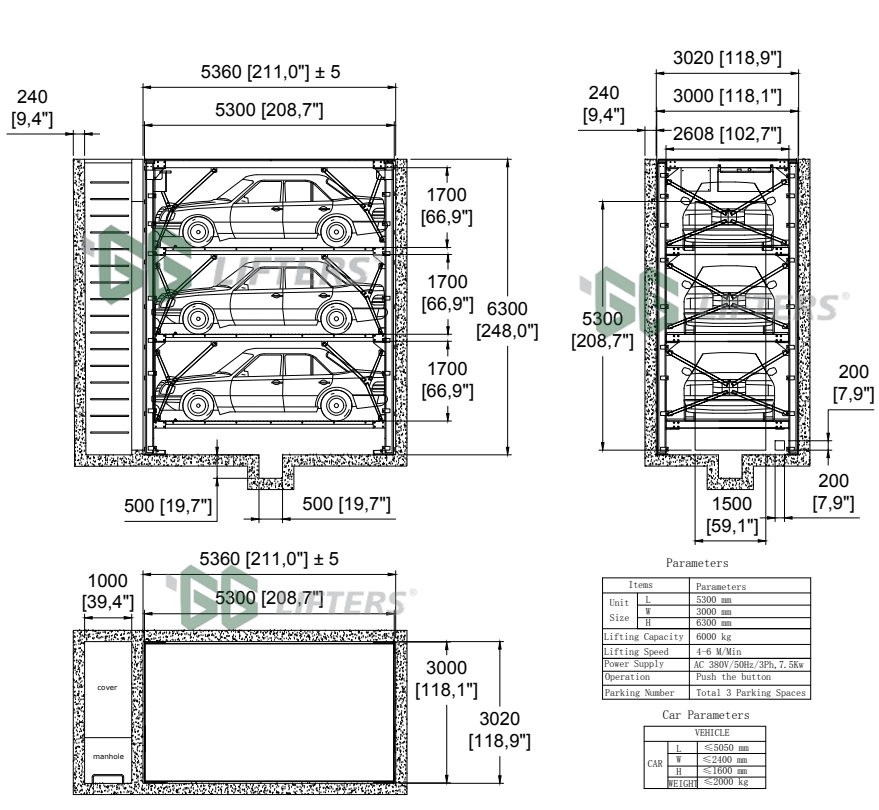 CE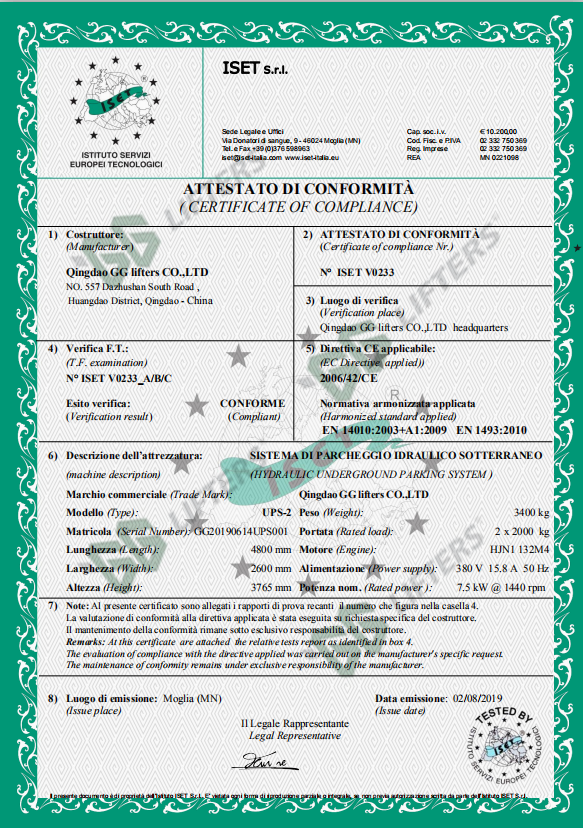 ENQUIRY MESSAGE