HYDRAULIC 2 POST PIT CAR PARKING SYSTEM (UTS)
1.Hydraulic driven and chain balance system.
2.Fully utilization of underground space.
3.Directly park or pick up the car at any level independently.
4.Galvanized wave plates platforms, cold bending and strong pressure & humidity resistance.
5.Multiple mechanical locks on posts to ensure safety.
6.Flexible designed according to customer requirements, suitable for residential & commercial use.
7.Electric sensors to confirm no persons or objects before rising up/down the platforms.
8.Steel parts are sandblasted then anti-corrosion primer painted and top finish color coated.
PARAMETERS
Model NO
UTS20/2
UTS25/2
Lifting Capacity
2000 Kg
2500 Kg
Total Height
4290 mm
4290 mm
Vehicle Size
5000*1850*1750 mm
4850*1950*2000 mm
Quantity in container
3 in 20 GP; 6 in 40 GP
Drive Mode
Hydraulic Driven + Roller Chain
Parking Capacity
2
Safety Device
Anti-falling device
Operation Mode
Automatic/ Manual
Speed
2.6 M / Min
Power Supply/Motor Capacity
220 V / 380 V, 1 Ph / 3 Ph, 50 Hz / 60 Hz, 2.2 Kw
Color Chart
DRAWING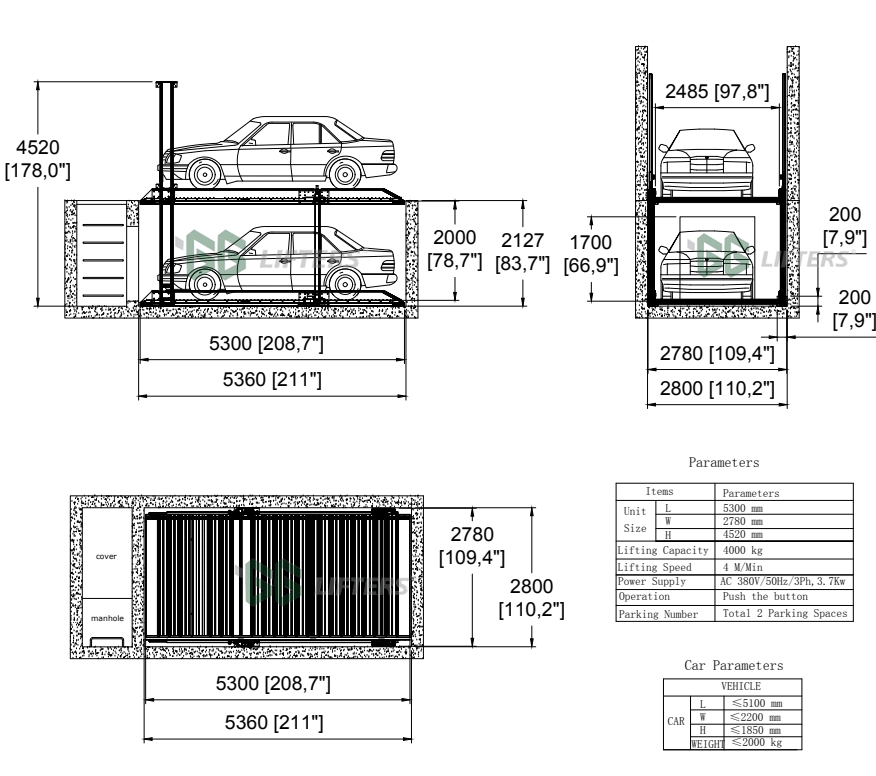 ENQUIRY MESSAGE