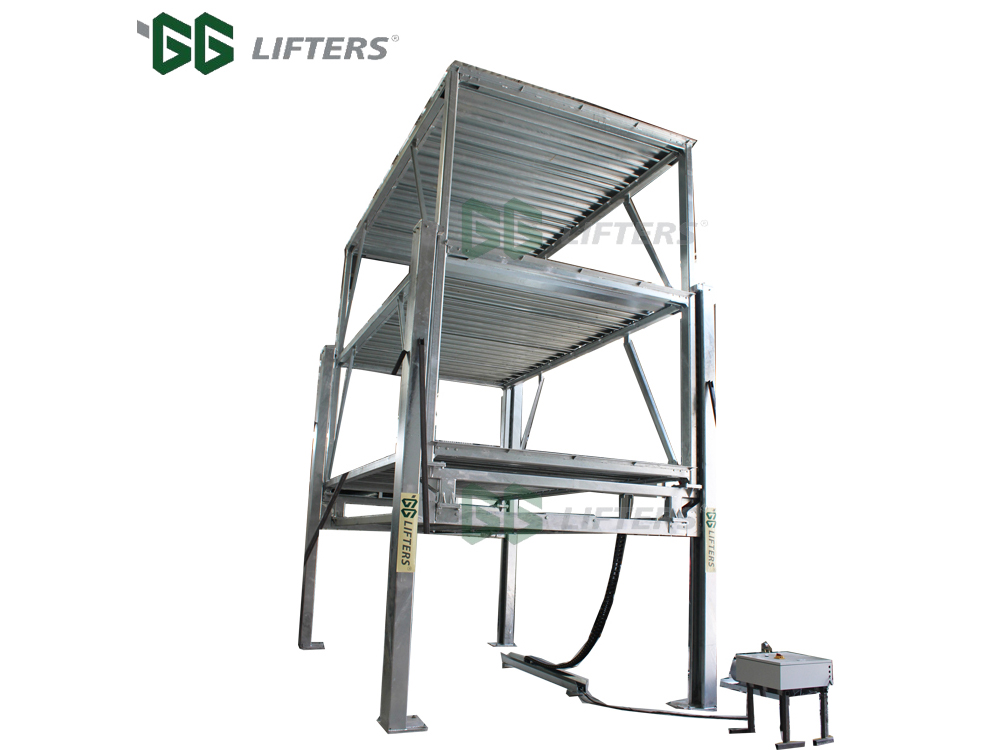 4 POST UNDERGROUND CAR PARKING SYSTEM
1. CE APPROVED
2. For independent parking.
3. Get more entrance dimension for cars on the basis of original narrow pit.
4. Only carve extra space outside of original pit for 4 columns, earn more net parking space. length and width of top platform is the same size of pit.
5. Hydraulic driven system.
6. Fully utilization of underground space, no prominent steel structure above ground level.
7. Directly park or pick up the car at any level independently.
8. Top platform of drive through type just used as roof and drive through ONLY.Galvanized wave plates platforms, cold bending and strong pressure & humidity resistance.
9. Multiple mechanical locks on posts to ensure safety.
10. Flexible designed according to customer requirements, suitable for residential & commercial use.
11. Electric sensors to confirm no persons or objects before rising up/down the platforms.
12. Steel parts are sandblasted then anti-corrosion primer painted and top finish color coated.

PARAMETERS
Model
CE UFS-1
CE UFS-2
max load each platform
2000kg (4400 lbs)
2000kg (4400 lbs)
load per wheel max
500kg (1100 lbs)
500kg (1100 lbs)
Car number (drive through type) Top platform of drive through type just used as roof and drive through ONLY.
2 cars underground, Top platform of drive through type just used as roof and drive through ONLY,
2 cars underground, Top platform of drive through type just used as roof and drive through ONLY,
Internal pit dimensions, excluding the space for columns (mm)
5310 * 3000 * 2600 mm ( 209" * 108" * 102.36")
5310 * 3000 * 4510 ( 209" * 108" * 177.6" )
sizes of top platform (mm)
5295 * 2985 ( 208.5" * 117.5")
5295 * 2985 ( 208.5" * 117.5" )
net parking space for underground car
5295 * 2750 * 1760 mm ( 208.46" * 108" * 69.29")
5295 * 2750 * 1780 mm (208.5" * 108" * 70.08" )
Internal pit dimensions, including the space for columns (mm)
5310 * 3400 *
5310 * 3400 * 4510 mm ( 209" * 133.8" * 177.6" )
Dimension of extra space for columns (mm)
4 columns totally,
4 columns totally,
and 500 * 200 * 2600 mm each (19.7" * 7.87" * 102.36")
and 500 * 200 * 4510 mm each (19.7" * 7.87" * 177.6")
Unit External dimensions including the main columns (mm)
5292 * 3346* 2600mm (208.5" * 131.7" * 102.36")
5295* 3346 * 4510 mm ( 208.5" * 131.7" * 177.6")
Net entrance height for each car (mm)
1760 mm (69.29")
1780 mm (70.08")
Max vehicle size (mm)
5000 * 2400 * 1660 mm ( 196.85" * 94.49" * 65.35")
5000 * 2400 * 1680 mm ( 196.85" * 94.49" * 66.14")
Electric parts
Original Chint
Lock release type
Electromagnetic lock release
platform type ( standard type--drive through type)
Top platform: diamond plates; lower platforms: galvanized wave plates
Safety Devices
4 ea anti-falling locks
Operation Type
Push buttons on operation box with "UP", "DOWN", "EMERGENCY STOP" buttons
Motor Capacity
5.5 kw (7.38 hp)
7.5 kw (10.05 hp)
Drawing
UFS-1
UFS-2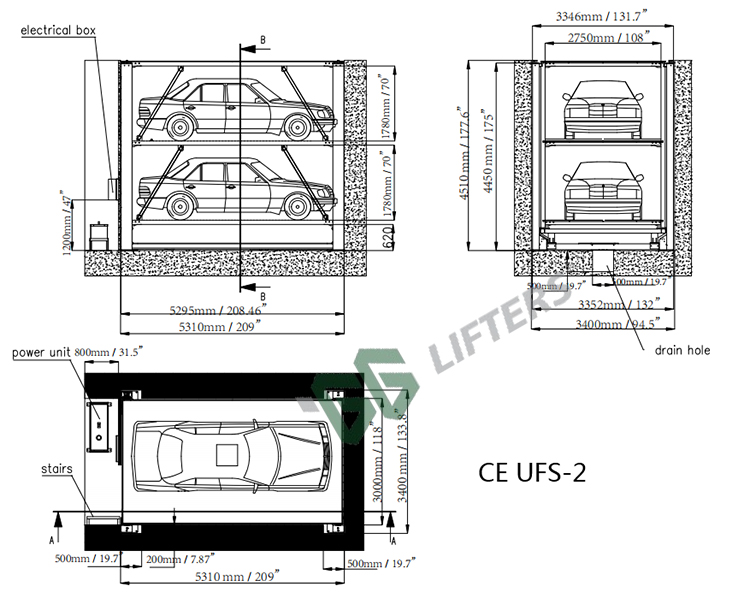 CE certificates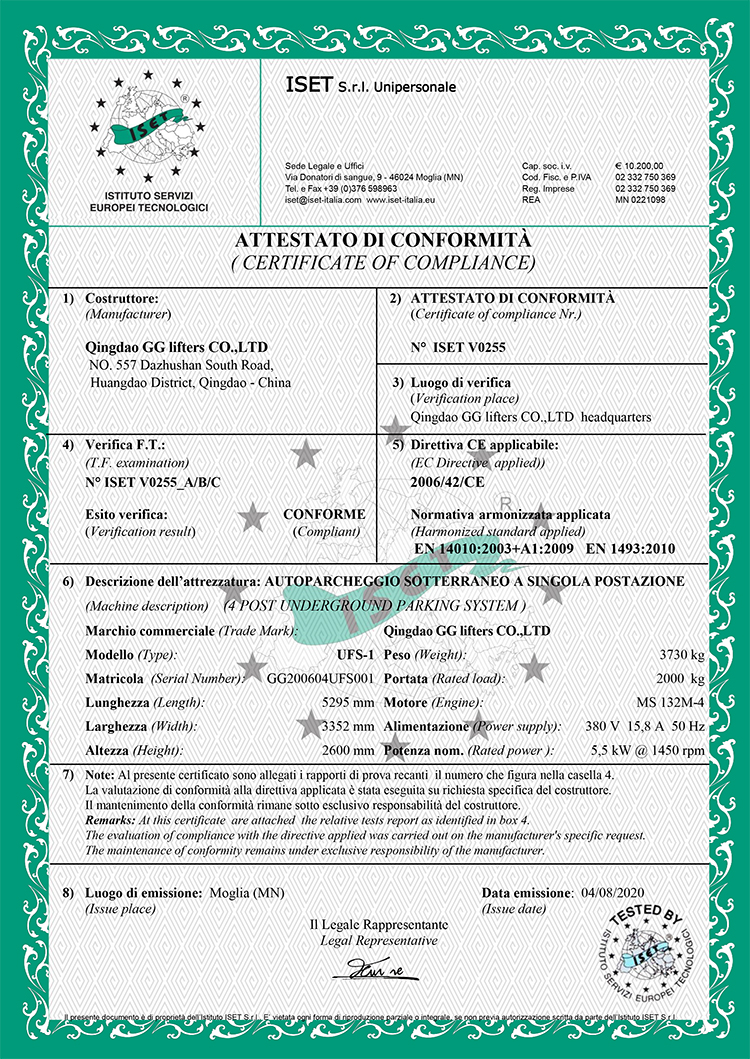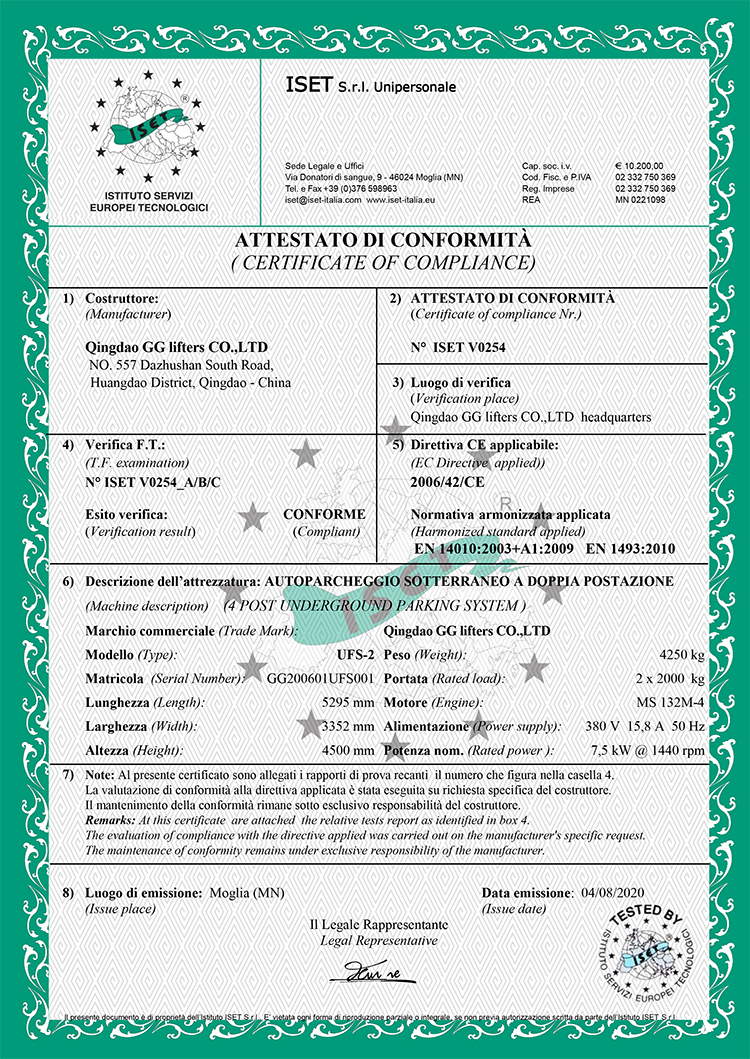 ENQUIRY MESSAGE